We're in the News!
From azcentral.com
TRAVEL & explore
by Roger Naylor – Apr. 5, 2011 03:24 PM
Special for The Republic
Sedona
Heartline Cafe
While Heartline has been a mainstay in Sedona for 20 years, the menu had seldom been tweaked. That changed after a fire in 2009 prompted renovations. The cafe added several small plates, making the dining experience more affordable while sacrificing none of the casual elegance.
Long-time favorites tea-smoked chicken dumplings with peanut-soy-ginger sauce ($10) are still on the menu. But they've been joined by marinated, grilled quail; smoked mozzarella ravioli; Kobe beef sliders; and pulled pork and polenta ($10 each).
Lobster chunks drizzled with ancho crème fraiche and served over robust potato blinis ($14) is a heavenly indulgence. Heartline offers Tapas Tuesdays, offering five small plates with a common theme, and two dessert tapas. Each dish costs $4, or get a sampler of five for $18. If weather cooperates, grab a table on the lovely patio, the walls blanketed in star jasmine.
Details: 1610 Arizona 89A.             928-282-0785 begin_of_the_skype_highlighting 928-282-0785 end_of_the_skype_highlighting www.heartlinecafe.com
From SedonaHappy.com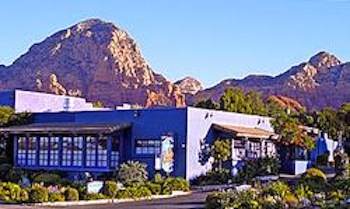 Thunder Mountain and © Heartline Café
Here's a list of our top picks for some more fine gourmet Sedona restaurants.
This is a picture of Heartline Café, a long time local favorite in West Sedona. It's known for exquisitely fresh ingredients that make for delectable dishes.
And it has just been renovated, so even the décor is super-fresh.
These stand out venues have earned the loyalty of a large clientele… returning again and again for creative, seasonally inspired menus. And wonderful ambience.
For casually sophisticated dining in Sedona, you can't go wrong with these local favorites. Sedona AZ vacationers love them too!
From 10Best.com
A joint creation of husband-wife team Chuck and Phyllis Cline, this well-attended local restaurant promises great atmosphere and terrific food too. An elegant interior marries with a comfortable, casual ambience, inviting patrons to relax and sink into the creative cuisine. A mix of Asian, Mediterranean, Continental, and American styles, it offers pecan-crusted local trout, char-grilled beef tenderloin with onion chutney, and pan-seared Alaskan halibut with ginger-lemongrass butter. Pork, duck, game, pastas, and chicken are also available. Domestic and international wines.
From TlaquepaqueWedding'sBlog
Chuck and Phyllis Cline own the Heartline Cafe, a local favorite here in Sedona. They have been doing off site catering for many years and they have the system down to a science.  They offer buffet style or plated dinners along with hors d'oeuvres and beverage service. They create a lovely setting and are very pleasant to work with. You will enjoy the range of their menu and the variety of choices.
Reception set up by Heartline Cafe – Photo by Jenni Goldman Photography
Set up on the Patio de las Campanas by Heartline Cafe
From Bonnee's Food Corner
Bonnee's Food Corner: Heartline Café Gourmet
Great places to eat and buy food in the Sedona-Verde Valley
The Restaurant… Delightful Gourmet!
Heartline Café Gourmet
1600 W. Hwy 89A
Sedona, AZ 86336
Phone: (928) 282-3365 begin_of_the_skype_highlighting (928) 282-3365 end_of_the_skype_highlighting
Website: www.heartlinecafe.com
Heartline Café is outstanding all the way around… with inside and outside seating, fabulous fare, fresh ingredients, and a sparklingly clean, charming, friendly and classy atmosphere. A wonderful place to share a meal, have coffee and dessert, or order take out.
The Fireside room with its warm crackling fire and unlimited coffee/tea table was welcoming and homey. I sat near the fire and helped my self to a cup of coffee with handmade raw sugar cubes and cream… mmmm smooth, heady, creamy and sweet. The specials of the day, hand written on a brown paper bag (how fun!), looked scrumptious. And the regular menu selections were all enticing. I finally settled on a sandwich called the Torta Rustica. An Italian sandwich with Cappicola, salami, provolone, roasted red peppers & Tapenade on Ciabatta bread with a black pepper vinaigrette on the side… savory, smoky, piquant, crunchy and chewy a mouthwatering delight. For dessert I chose a slice of Berry Torte… creamy, flaky, sweet and absolutely scrumptious. I must have died and gone to heaven!
Breakfast, Lunch or Dinner prices range from $4.50 to $14.75. I whole-heartedly recommend the Torta Rustica and Berry Torte. Awesome!
From NileGuide.com
Regularly voted Sedona's best restaurant, this romantic, casual restaurant serves some of the area's finest gourmet. At lunch, the Duets are a great way to experience several menu items. They include a choice of soup & grilled vegetables, Caesar salad & pizza, or warm red cabbage salad & half pasta. Dinner specialties include Pecan-crusted local trout with Dijon cream sauce and roast duck with a dried cherry relish. Wines by the glass are reasonably priced.
From Gayot – The Guide to the Good Life
Open
Restaurant: Dinner: Daily
Gourmet Express Dine-In or Take-out: Breakfast & Lunch daily
Features
Heart-Healthy dishes
Romantic Setting
Private Room(s)
Full Bar
Reservations suggested
Outdoor Dining
Parking lot
Casual
Considering its reputation as one of Sedona's oldest and most revered eateries, The Heartline Café's French-country ambience creates a relaxed atmosphere, much like you're walking into an old friend's kitchen before a holiday meal . Fresh flowers adorn tables set with crisp linens and gleaming silver and fine china, and gracious service complements owner Chuck Cline's eclectic cuisine. The blend of American, Southwestern, Asian and Mediterranean influences shows up in creative seasonal dishes like the pecan-crusted local trout with Dijon cream sauce, or a spiced pork tenderloin with potato cake and roasted apples. The seafood is consistently fresh and soups are created with love and know-how. Opt for the outdoor garden-like setting on warm summer evenings, or if you're craving more of chef Cline's creations for breakfast and lunch, stop by The Heartline Café's Gourmet Express dine-in and takeout location next door.