We're in the News!
L.A. Biz Afternoon Edition Newsletter
Apr 29, 2013, 1:40pm PDT
In a resort town, The Heartline Café is where the locals go for great food! 
Scott Bridges
A highlight of The Hartline Cafe's menu is the local farm-raised, pecan-crusted trout.
Resorts are generally a safe bet for travelers who want a good meal but if you're interested in eating like a local, you're likely to discover a more regional cuisine. And in Sedona, Arizona, hungry locals flock to The Heartline Café.
Built in the shadow of ThunderMountain (the basis for the Disneyland attraction) in West Sedona, the 22-year-old family-owned restaurant is centrally located on a commercial strip a few minutes from downtown, and serves breakfast, lunch and dinner seven days a week. The name derives from the Zuni symbol for long life, luck and good health.
Why you should go:
Owners Charles and Phyllis Cline can usually be found working on any given day. Charles, aka Chuck, is a graduate of the Culinary Institute of America, Hyde Park, New York. The menu is a collection of American comfort foods, and features some Southwestern and Mediterranean influences and even some Asian twists, offering seasonal favorites with local and organic ingredients whenever available.
What to order:
Dinner is designed as a traditional three- or four-course meal, depending on if you start with soup or salad.
There are a lot of appetizers from which to choose. The Smoked Mozzarella Ravioli is, like nearly everything on the menu, oversized and decadent. In fact, a small- to medium-sized pizza is also offered as a starter.
A signature entrée is the Pecan-Crusted Trout, raised at Rainbow Farms, about seven miles up the road. In fact, I was informed that for an extra $7, one can bring in his own fresh-caught trout and the chef will serve it up for dinner.
Other favorites include Sesame-Crusted Ahi Tuna, Tortilla-Crusted (notice a "crusting" trend here?) Wild Salmon with honey-cilantro sauce, Bacon-Wrapped Filet Mignon, Porterhouse (for one or two) and Grilled Marinated Pork Tenderloin.
Heartline's desserts, fittingly, are a powerful sensory experience. The homemade sorbet, for instance, comes in exciting flavors like strawberry basil. In fact, it's more like basil strawberry, with the herb hitting the palate hardest, and the fruit providing a lingering finish.
For drinkers:
The wine list is impressive, showcasing a wide variety of favorites from around the world. Many wines are available by the glass or the half-bottle. An array of dessert wines, including several types of port and sherry are also listed.
Local beers are also available, as well as a full bar.
What people are saying:
Gayot gives the restaurant a 14/20 rating, saying, "Considering its reputation as one of Sedona's oldest and most revered eateries, The Heartline Café's French-country ambience creates a relaxed atmosphere, much like you're walking into an old friend's kitchen before a holiday meal."
What I think:
The hospitality of Phyllis and Charles Cline knows no bounds, and the pair could be ambassadors for Sedona. Their friendly staff reflects that same sense of cordiality, treating tourists just like regulars, and they also have a thorough knowledge of everything on the menu, and can even provide helpful guidance for out-of-towners looking for things to try.
Additionally, the garden-like patio in back is a stunning place to dine for either business or pleasure, with views of ThunderMountain and other magnificent geological structures.
Scott Bridges has covered the Los Angeles scene for over ten years as a journalist and food critic. Follow him on the Huffington Post
Industries:
Heartline Café, Sedona, Arizona
From azcentral.com
TRAVEL & explore
by Roger Naylor – Apr. 5, 2011 03:24 PM
Special for The Republic
Sedona
Heartline Cafe
While Heartline has been a mainstay in Sedona for 20 years, the menu had seldom been tweaked. That changed after a fire in 2009 prompted renovations. The cafe added several small plates, making the dining experience more affordable while sacrificing none of the casual elegance.
Long-time favorites tea-smoked chicken dumplings with peanut-soy-ginger sauce ($10) are still on the menu. But they've been joined by marinated, grilled quail; smoked mozzarella ravioli; Kobe beef sliders; and pulled pork and polenta ($10 each).
Lobster chunks drizzled with ancho crème fraiche and served over robust potato blinis ($14) is a heavenly indulgence. Heartline offers Tapas Tuesdays, offering five small plates with a common theme, and two dessert tapas. Each dish costs $4, or get a sampler of five for $18. If weather cooperates, grab a table on the lovely patio, the walls blanketed in star jasmine.
Details: 1610 Arizona 89A.             928-282-0785 begin_of_the_skype_highlighting 928-282-0785 end_of_the_skype_highlighting www.heartlinecafe.com
From SedonaHappy.com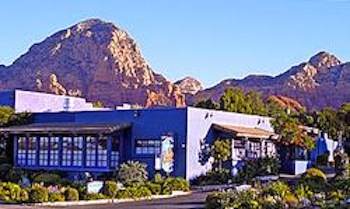 Thunder Mountain and © Heartline Café
Here's a list of our top picks for some more fine gourmet Sedona restaurants.
This is a picture of Heartline Café, a long time local favorite in West Sedona. It's known for exquisitely fresh ingredients that make for delectable dishes.
And it has just been renovated, so even the décor is super-fresh.
These stand out venues have earned the loyalty of a large clientele… returning again and again for creative, seasonally inspired menus. And wonderful ambience.
For casually sophisticated dining in Sedona, you can't go wrong with these local favorites. Sedona AZ vacationers love them too!
From 10Best.com
A joint creation of husband-wife team Chuck and Phyllis Cline, this well-attended local restaurant promises great atmosphere and terrific food too. An elegant interior marries with a comfortable, casual ambience, inviting patrons to relax and sink into the creative cuisine. A mix of Asian, Mediterranean, Continental, and American styles, it offers pecan-crusted local trout, char-grilled beef tenderloin with onion chutney, and pan-seared Alaskan halibut with ginger-lemongrass butter. Pork, duck, game, pastas, and chicken are also available. Domestic and international wines.
From TlaquepaqueWedding'sBlog
Chuck and Phyllis Cline own the Heartline Cafe, a local favorite here in Sedona. They have been doing off site catering for many years and they have the system down to a science.  They offer buffet style or plated dinners along with hors d'oeuvres and beverage service. They create a lovely setting and are very pleasant to work with. You will enjoy the range of their menu and the variety of choices.
Gourmet Express Dine-In or Take-out: Breakfast & Lunch daily
Features
Heart-Healthy dishes
Romantic Setting
Private Room(s)
Full Bar
Reservations suggested
Outdoor Dining
Parking lot
Casual
Considering its reputation as one of Sedona's oldest and most revered eateries, The Heartline Café's French-country ambience creates a relaxed atmosphere, much like you're walking into an old friend's kitchen before a holiday meal . Fresh flowers adorn tables set with crisp linens and gleaming silver and fine china, and gracious service complements owner Chuck Cline's eclectic cuisine. The blend of American, Southwestern, Asian and Mediterranean influences shows up in creative seasonal dishes like the pecan-crusted local trout with Dijon cream sauce, or a spiced pork tenderloin with potato cake and roasted apples. The seafood is consistently fresh and soups are created with love and know-how. Opt for the outdoor garden-like setting on warm summer evenings, or if you're craving more of chef Cline's creations for breakfast and lunch, stop by The Heartline Café's Gourmet Express dine-in and takeout location next door.